The Maurice Revello Tournament is back in 2023 for a 49th edition! The prestigious football competition (formerly known as the Toulon Tournament) for U21 and U20 national teams is back in June in the French Region Sud.

The 49th edition will take place from 5 to 18 June 2023 and will be played over 26 games in several towns in the Bouches-du-Rhône department: Aubagne, Fos-sur-Mer, Mallemort and Salon-de-Provence, as well as Arles and Miramas.

The Maurice Revello Tournament will follow its usual format: 12 national teams will participate, divided into 3 groups of 4 teams. The top 3 teams in each group and the best second will qualify for the semi-finals. The other teams will play ranking games.
Here are the participating teams and the groups they are in:
Group A: Costa Rica, France, Saudi Arabia, Venezuela
Group B: Australia, Mexico, Qatar, Togo
Group C: Bolivia, Ivory Coast, Japan, Panama
The full schedule with the dates, times and venues of the 26 games: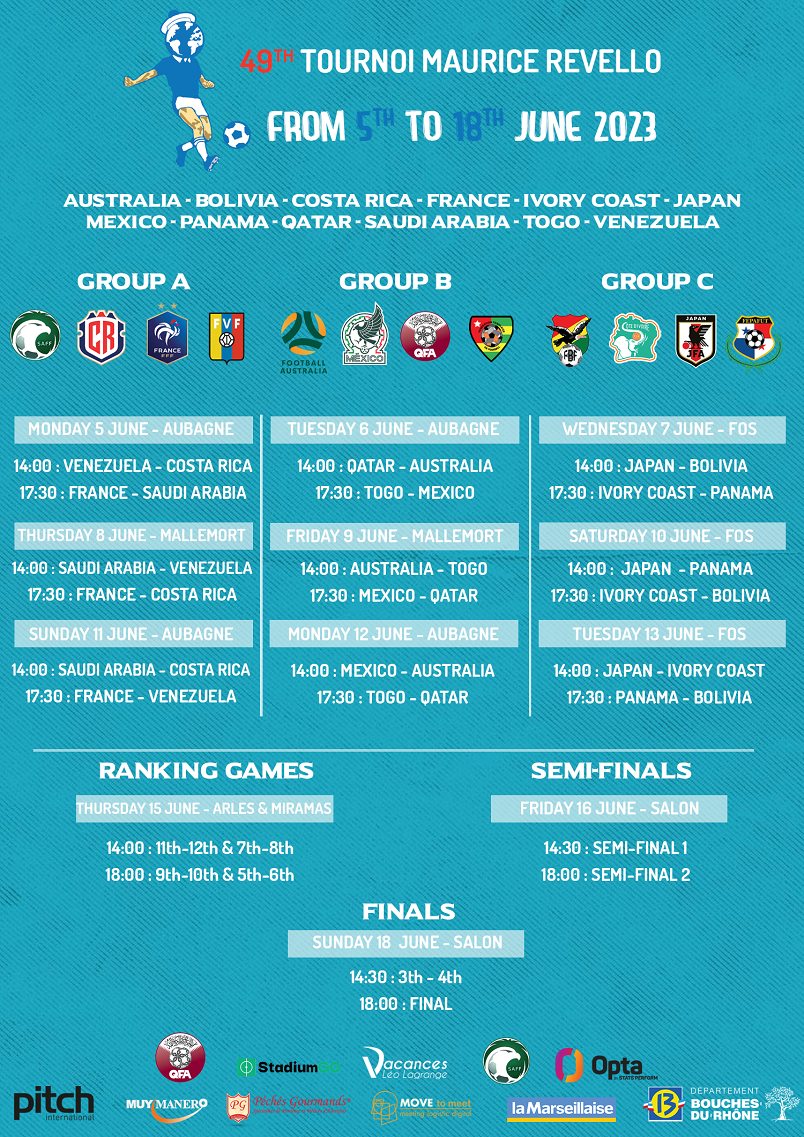 As it was last year, the semi-finals and the final held in Salon-de-Provence will be accessible via an online ticketing system. This will soon be available on our website.

If you are a journalist, a scout or a player's agent, you can request an accreditation by filling in the official form.
You will receive your accreditation by email.

The entire Maurice Revello Tournament organisation is looking forward to seeing you on the fields of Bouches-du-Rhône to celebrate the 49th edition of our historic competition!