The life of Everton youth academy product and former England U21 international Tyias Browning has totally changed since joining Chinese giants Guangzhou, the country's best club in the last decade (8 league titles between 2010 and 2020). Eligible to play with the China national team through his grandfather, Tyias Browning completed the naturalization process that allows him to play with China at the senior level. Now also known as Jiang Guangtai, his Chinese name, the 27-year-old defender shared with us his thoughts on his life in China and his memories from the Maurice Revello Tournament that he played with England few years ago. Interview.
Tyias, you took part in the Maurice Revello Tournament (formerly known as the Toulon Tournament) in 2014. During this competition, you were a regular starter for England and you've faced opponents like Qatar, Brazil, South Korea, Colombia and Portugal. What are your memories of this competition ? What has the Tournament brought to you in terms of experience ?
It was an overall excellent experience for me because it offered me a chance to play against some of the best young players in the world at the time. It was one of my first major tournaments out of the UK as well, that gave me the confidence to push forward in my career and gave me a real taste of what foreign football was like.
Many players of that England squad reached the senior international level (James Ward-Prowse, Eric Dier, Nathaniel Chalobah, Nathan Redmond, Michael Keane…) including you. Did you feel at that moment, in 2014 when you've played the Toulon Tournament, that the England squad was full of promising players ?
Yeah, definitely. In every England set up I've played a part in you could see the potential in most players present. It's great to see so many of my teammates performing at the highest level now.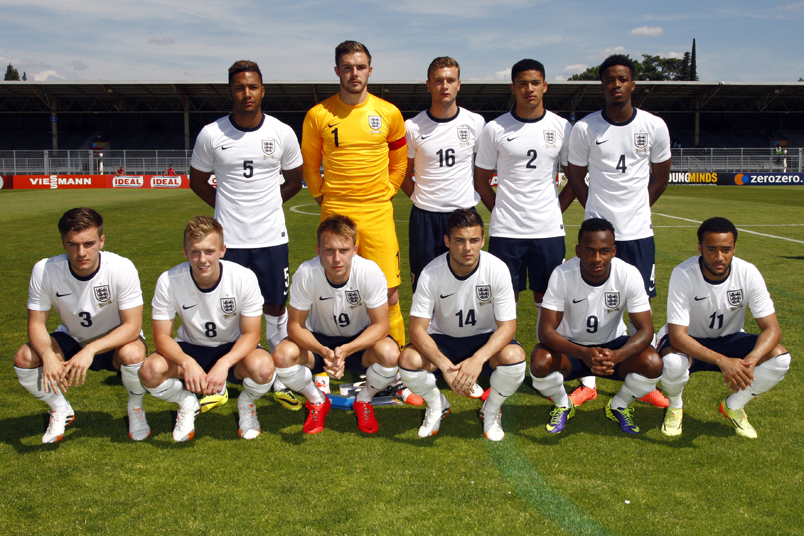 The England XI ahead of their game against Portugal at the Maurice Revello Tournament 2014
In February 2019, you've joined Chinese giants Guangzhou after spending your whole career in England (Everton, Wigan, Preston North End, Sunderland). Did the Italian legend Fabio Cannavaro played a key role in your arrival ?
It did, yes. His CV speaks for itself and he has done some great things out here as a manager as well. From the moment I arrived he played an important role both on and off the pitch. There aren't many better people out there to learn from.
Voir cette publication sur Instagram
You were eligible to represent China through your grandfather, when did you decide to play for China at the senior level ?
I think the moment was when the rules changed here and we knew the option was there. That was the point where conversations started to evolve and we started to look at the opportunity.
How is the Asian football compared to English football ? What are the similarities and the differences ?
It's a lot more competitive than what people think and fans are extremely passionate when it comes to the game of football. There are a lot of things you have to adapt to on and off the pitch, the conditions being one of those but I feel like I've adjusted to it well.
Voir cette publication sur Instagram
When we read your recent interviews, you seem delighted by your new life in China. Did you feel that you have adapted quickly ? What did this move brought to you personally ?
Looking back it's been a long journey to get here and it wasn't all plane sailing. It took me a short period to get used to life out here, especially as I was away from my family but as I said before, I had some excellent people around me in the club. Thinking about it now, it's been a great experience here aside from the pandemic which has been extremely difficult for everyone. I'm looking forward to continuing my journey out here.
You have been included in Team's China recently and you've earned your three first international caps against Guam, Philippines and Syria. How does it feel to make his senior international debut ?
It was a really proud moment for both me and my family. It was one of my goals when I first moved to China and I looked forward to accomplishing it. The games we played also saw us walk away with wins which made it that bit better.
Voir cette publication sur Instagram
On September, you'll take part in the third round of the World Cup 2022 qualifiers. What do you expect from your national team in these upcoming games ?
We are currently at training camp preparing for the fixtures. It's been good to see the enthusiasm and motivation from everyone to succeed. I think if we stick to our game plan and focus on ourselves we have a great chance to qualify.
You're now 27, what is your biggest dream for the rest of your career ?
My biggest dream right now is to make it to the World Cup in 2022. It's a dream almost every player who plays the game has...
Interview by Amayes Brahmi -
Crédits photo : NBQIU