For the first time this year, the Maurice Revello Tournament is hosting a refereeing seminar organised by FIFA, with the aim of encouraging the development of female refereeing. All matches at the 48th edition of the competition will be officiated by trios of female referees. This is a world first and was initiated by Kari Seitz, FIFA's head of women's refereeing. For thirty minutes, she agreed to tell us about the objectives of this seminar, the first of its kind in the history of the tournament. Interview.
Kari, what the FIFA referees' seminar at the Maurice Revello Tournament consists of?
The Tournament is part of our project « Road to Australia and New-Zealand ». It's a four-year project in which we prepare the referees for the next Men's and Women's World Cup, so we are going to bring our top referees to prepare for Australia and New-Zealand in 2023. Before any FIFA competition, we always have a seminar with two goals : one is to prepare the referees for the competitions, because we want to have the best referees on the field for the Maurice Revello Tournament, and the other is to prepare the long-term for the World Cup next year. During the seminar, we have several elements. One is actual practical training on the pitch, during which we simulate real-life situations we can see in the matches and prepare the referees with the team's tactics we expect, to really replicate a practice referees. Then, in the afternoon, we have some sessions in which we really try to exercice the uniformity of refereeing decisions and analyze the game to make the proper decision in the match. And the last part is focusing on the fitness and health. We have a whole medical in our components to help the referees. They are athletes, not only fit but also healthy. So those are really our key components. We will replicate what we do at the World Cups on any types and any gender. We are taking it in a very serious and professional way.
What is the goal of this seminar and what do you expect from the referees who attend?
They all will be evaluated, so this will be an opportunity for them to show they have the quality to be at the World Cup. We are looking for them to perform at their best. The quality of the games we expect at this Tournament, like we saw historically, is perfect for them because it's going to be excellent football. This will be the best environment to be able to show they have the skills to make the decision. We also want them to continue to improve and learn quickly, at the physical level, their ability to make decisions, to read the game. We are looking for world-class standards.
What message do you want to convey through this?
We don't want there to be a difference. We would love that in the future, this is not news. That is really what we walk towards, step by step : situations like this should not be a news anymore. At some point, we start the game, players are surprised and after minutes nobody cares, because we are just refereeing and everyone focuses on the football. That's the dream of the women referees. For me, it's to continue to demonstrate that these women have the quality and to show to the world that it should not be a matter. Women love football the same, they can have the same fitness ability, the same technical abilities. This is the opportunity to demonstrate that women have the quality in any type of football, men or women. I would absolutely loved to participate in this type of event when I was a referee. We are starting a new history here, and hopefully we will have many years to come of the seminar and more events like this.
"The Maurice Revello Tournament is quite special"
Why did you choose the Maurice Revello Tournament to host this event?
Because this is a tournament with a very long history, with not only quality football but future stars of that sport. To be able to work with the Tournament of such prestige, to help to develop our project with the referees is a huge pleasure and we are excited to be part of it. It's unfortunate that we had COVID and we lost two years of chance to work together but finally, here we are in 2022 and we have this unique opportunity to be part of this historic event. So many stars and wonderful players have started at the Maurice Revello Tournament, it is one of the most prestigous youth men competitions. The organisation of that competition is someting quite special, so that's a pride to be part of it.
You are the head of women's refereeing at FIFA and work alongside Pierluigi Collina. What is your role exactly?
I have several responsabilites but one of my primary goal is to prepare women for the Women's World Cup and also to change the culture to support women referees, to change how the world sees women refereeing. That is a large part of what I do, but I am also responsible of helping with our recruiting and teaching materials, for developing our technical programs. So it's not just being alongside women referees, I also work with men referees. On the technical side, we develop teaching to develop referees at all levels, men and women, from grassroots to elite referees. But I am really focused on trying to change the world perception of women referees and prepare them for the World Cup.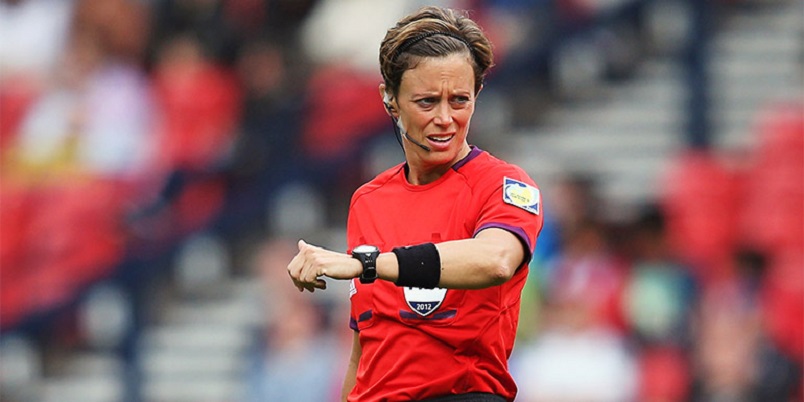 You are working alongside another former American referee, Esse Baharmast, who took part in the Tournament four times (1993, 1994, 1995, 1996). What could you tell us about him?
Esse is a role-model to many, including myself. He was one of our top referees in the United States, and then he became the director of the referees in USA for many years. For me, he was a key person and a key influencer in my referee career. He is the one who introduced me to Alain when I was looking for a men's competition to bring the referees. Esse was working with me as part of the Women's World Cup 2019. He proposed to connect with Alain and the Tournament, which was fantastic. He's stepped aside from being instructor and travelling with FIFA but for this project, he has agreed to stay with us and he will be joining us for the Maurice Revello Tournament, so we are very excited to have him. For me, he is not only an outstanding referee, he is an outstanding human-being.
"There is a place for all the women in football"
During your career, you have officiated at four Women's World Cups and four Olympic Games. How do you look back on your career? What is the greatest moment you had?
When I look back on my career, I am proud of my accomplishment. It comes from many people to make it possible. We don't have someone yet with the same records and this is something I am proud of, I feel lucky for that. Not many people get such a long career and there was so many people in my life to help me to achieve success. It may sounds like a strange answer but in United States, when you are young, the most important sporting event is the Olympics. When I was selected for my first Olympics to go to Greece in 2004, this has to be the most special moment, this was something I have dreamt for my entire life. At that moment, that was probably a highlight in my career, being part of the IOC. But wen I think about it, the real take-away from me was that I love football, I love the game from the field, I had so many amazing experiences, but I have to say that what changed my life is the people, and learn about culture and the football family. This is what I treasure the most, the friends and the family I got through football and the fact that now, because of the games, the career I had, I work at FIFA to help the next referees to make a difference. Frankly, this is now my number one pleasure and honour. My referee career just allows me to get to that point and help others. And that is the thing I am now more excited about. I know it can sounds astonishing because you talk about the field, but now I am in a position where I am able to help others. For example, bringing people to the Maurice Revello Tournament is a good example of that. This will change a lot of women's life to have this opportunity.
Can initiatives like this, and personalities like you or like Stéphanie Frappart in France for example, give rise to vocations among young referees?
Absolutely, everytime they see a women successful like this, we might have another Stéphanie Frappart, someone else who is motivated to do the work when they see the kind of opportunity to make it as a referees at this level of football, this is very motivating. And that is one of my hope, to change the vision of women referees and help some of them to have this vocation. They see that there is potential and it has a value.
What message would you like to send to young women who are passionate about soccer and refereeing?
Football is a place for everyone, it's not just for men, it's not just for women, it's really for eveyrone. More we are trying to demonstrate that women are welcome, more we will continue to grow, and we need them. Football is a sport for everyone and refereeing can be a passion for them too. There is a place for them in football.
Mathieu Lauricella