The FIFA U20 Women's World Cup started on 10 August. Among the 16 participating teams are 73 players who have featured in the Sud Ladies Cup.
Just under two months after their participation in the Sud Ladies Cup, USA, France, Mexico and Netherlands got down to business last week with the start of the U20 World Cup.
The four teams came to the French region Sud to prepare for the competition and a large proportion of their players were seen at the SLC 2022 as they are 74. France will compete in the World Cup with 21 players already present at the Sud Ladies Cup. The Americans have 16 players, the Mexicans 17 and the Dutch 20.
After two days in the group phase, the four teams have had mixed results. After losing their opening match to Nigeria, the French made up for it by beating Canada in their second game (3-1), thanks in particular to a brace from Magnaba Folquet.
The USA beat Ghana 3-0 on the opening matchday before losing by the same score to Netherlands (0-3) in a replay of the Sud Ladies Cup previous game. The Dutch have now recovered from their opening loss to Japan (0-1). Finally, Mexico have two draws in two games against New Zealand (1-1) and Colombia (0-0). All are still in contention to qualify for the quarter-finals of the competition.
The 74 Sud Ladies Cup graduates present at the U20 World Cup:
USA : Korbin Albert, Trinity Byars, Michelle Cooper, Tallia Della Peruta, Lauren Flynn, Simone Jackson, Mia Justus, Andrea Kitahata, Carina Lageyre, Emily Mason, Olivia Moultrie, Ayooluwa Oke, Neeku Purcell, Lilly Reale, Allyson Sentnor, Jaedyn Shaw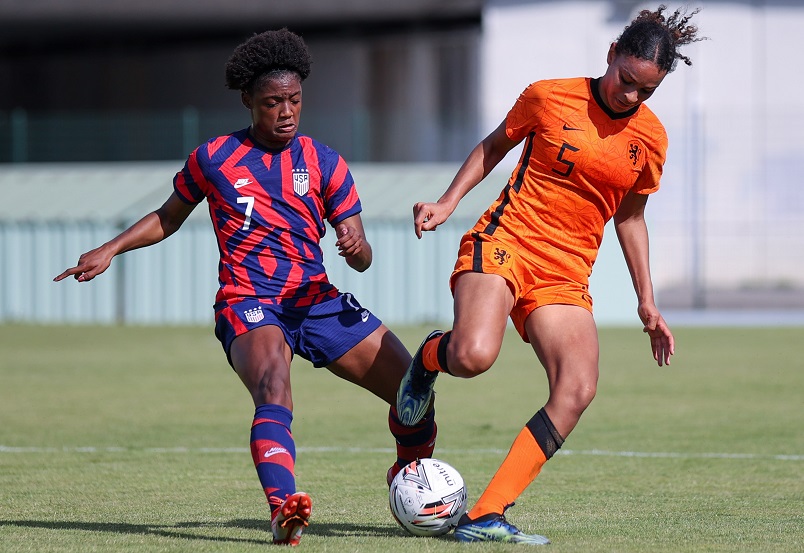 Simone Jackson and Nina Nijstad during the Sud Ladies Cup 2022
France : Vicki Becho, Cyrielle Blanc, Lou Bogaert, Laurina Fazer, Magnaba Folquet, Mégane Hoeltzel, Océane Hurtré, Jade Le Guilly, Esther Mbakem Niaro, Yrma Mze Issa, Jade Nassi, Célina Ould Hocine, Marie Petiteau, Thiniba Samoura, Hawa Sangaré, Marie-Morgane Sieber, Alice Sombath, Kysha Sylla, Anaelle Tchakounté, Océane Toussaint, Manssita Traoré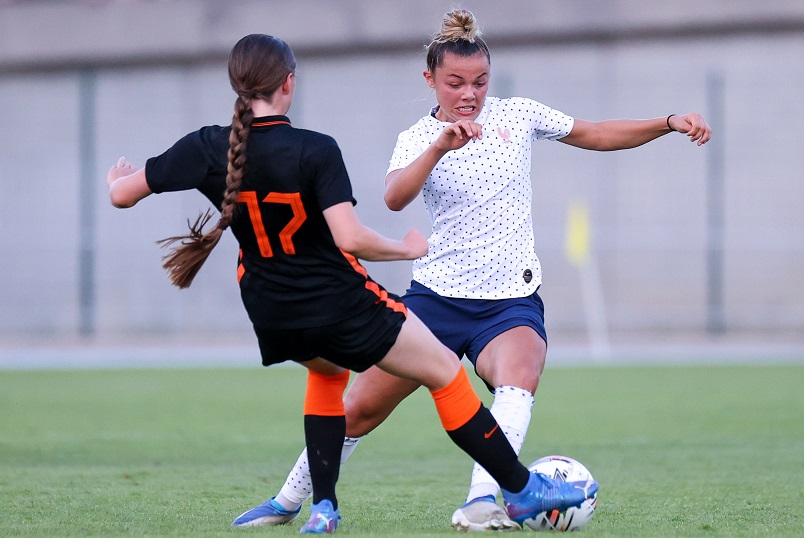 Océane Hurtré at the Sud Ladies Cup 2022
Mexico : Carol Cazares, Paola Chavero, Daniela Delgado, Celeste Espino, América Frias, Isabella Gutierrez, Jana Gutierrez, Kinberly Guzman, Samantha Lopez, Paola Manrique, Bridgette Marin, Natalia Mauleon, Daniela Monroy, Alexxandra Ramirez, Blanky Serrano, Anette Vazquez, Alexia Villanueva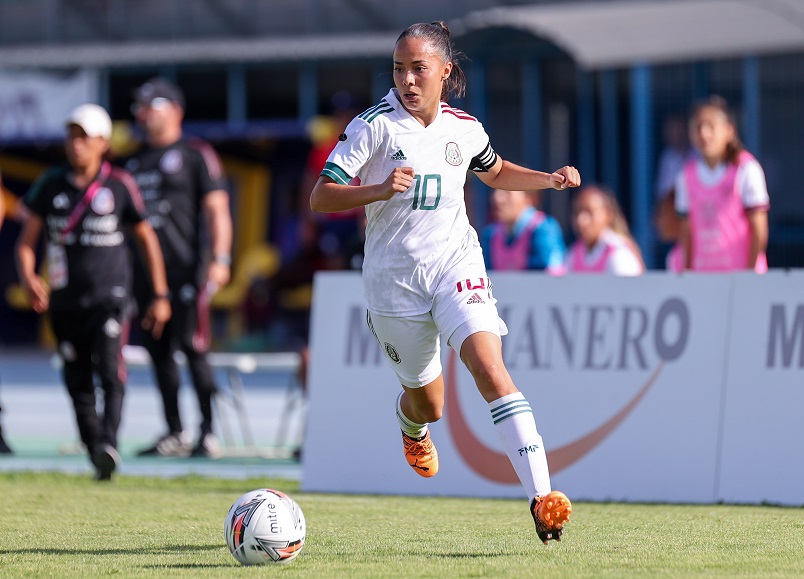 Anette Vazquez at the Sud Ladies Cup 2022
Netherlands : Lisan Alkemade, Maurit Auee, Claire Dinkla, Kim Everaerts, Dana Foederer, Ziva Henry, Charlotte Hulst, Zera Hulswit, Senna Koeleman, Sanne Koopman, Remke Liefting, Fenna Meijer, Nina Nijstad, Danique Noordman, Ella Peddemors, Liz Rijsbergen, Tess van Bentem, Samantha van Diemen, Rosa van Gool, Jeva Walk